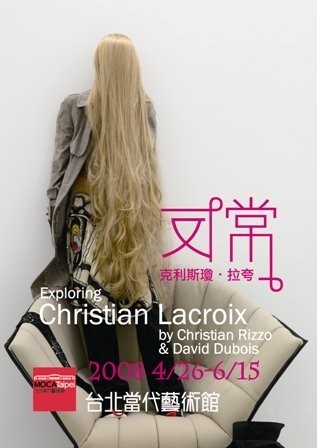 "Bring fashion to daily normality"
attended to the Museum of Contemporary Art Taipei
because of this exhibition
i really like Lacroix's works
let me introduce this exhibition to you all
Christian Lacroix'couture house celebrated its 20th anniversary in 2007.
for his 20th anniversary fashion show
he invited David Dubois and Christian Rizzo to participate in staging the show.
they reinterpreted Lacroix's ready to wear selection and created a visual style that was different from what we are familiar with.
the show premiered at the International Festival of Fashion and Photography in Villa Noaille and was extremely well received by the audience in May, 2007.
the show was invited to Vienna International Dance Festival in August, 2007.
it was a brilliant crossover of theater, music and fashion, catching media's attention and getting plenty of news coverage.
ordinary fashion shows always place priority on perfect presentation of clothing and ignore the intimate relationship between clothes and human body.
however, attempts to get rid of idolization and myths of brands so that clothing can blend in with the rhythm of life.
it abandons the aesthetics of shop window design
through the models' casual apparel and daily-life postures.
Lacoix's clothing becomes realistically ruffled and has a spatial relationship with human body.
the exhibit design creates a space of imagination and the secular world.
its theatrical atmosphere foregrounds the unique mischief and baroqueness of Lacroix's design.
although the show emphasizes its models'realistic look
the runway appears to be ironically even more magical realistic.
through their respective point of view
each of the 2 artists from different fields sees a new Lacroix.
they work together to expose the conflict between fashion and pragmatism in Lacroix's creation.
with presentation of clothing and representation of fashion symbols.
they attempt to recreate the conflict characteristic of Lacroix's design.
it's really a great show that you can't miss.
exploring Christian Lacroix by Christian Rizzo and David Dubois
show time " 2008.04.26 ~ 2008.06.15 "